Tencent have announced a new partnership with Audi China. Soon Audi vehicles in China will be able to run in-vehicle digital services from the technology giant, creating an "intelligent and interconnected digital ecosystem."
Under this cooperation, the technology giant will provide Audi's digital cockpit with its services and digital technologies such as social media, content services. Specifically, Audi vehicles equipped with latest generation of Audi connect can enjoy the in-vehicle Wechat, QQ Music, Tencent Light App and Tencent Maps.
Among other things, Audi vehicles in China are expected to feature in-car WeChat and some other digital services from Tencent, according to a memorandum of understanding the two signed on Monday.
"Deepening our strategic cooperation with Tencent further enables us to expand the Audi product eco-system for our Chinese customers in a way that is tailored to their unique needs," said Werner Eichhorn, president of Audi China.
Tencent's in-car WeChat platform, first unveiled in August 2019, allows drivers to operate the popular app through voice commands and buttons on the steering wheel. Drivers can check and send messages, make WeChat calls and send their real-time location without taking their hands off the wheel.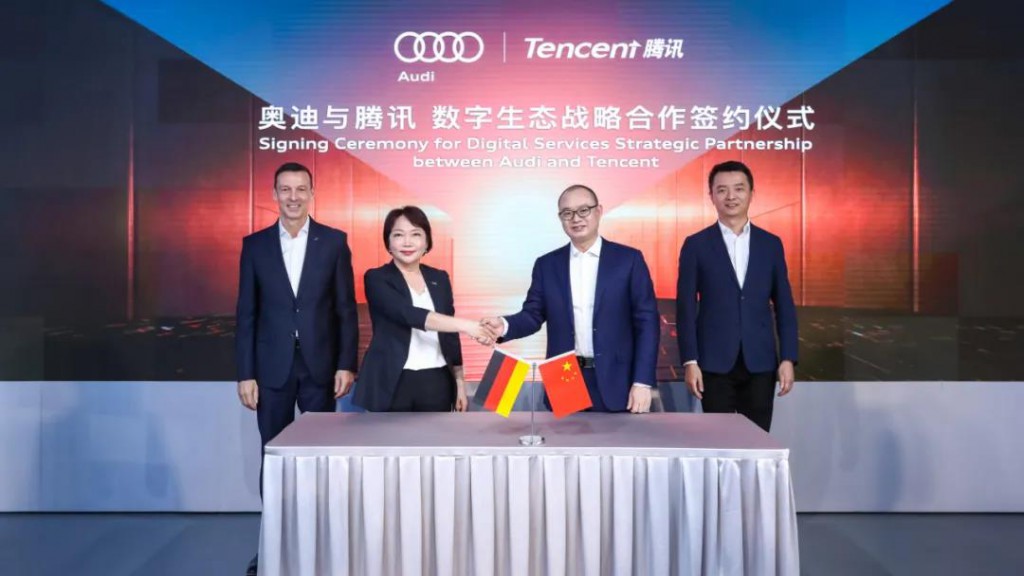 Chang'an was the first automaker to equip the in-car app onto its vehicles, including the CS75 Plus. Other partnerships with Tencent include BMW and Mercedes-Benz.
Tencent has been developing integration in vehicles since 2018, working on internet in vehicles, access to cloud-based storage and autonomous driving. The tech giant has partnered with over 30 carmakers so far, with Tencent products used in over 120 models. The WeChat app, first revealed in 2019, lets drivers send messages, make calls and share their location, all hands-free.
With in-vehicle Wechat, the social media app of Tencent, drivers can send and read or listen to messages via voice control when driving. It will be much safer and more conveniently. For various mobility scenarios, Tencent also creates an in-car Light APP ecosystem, which can offer such services as news, entertainment, travelling services. Like the in-car Wechat, the Light App ecosystem supports voice control. What's more, the ecosystem eliminates the need of downloading applications, and support updating via the cloud.
Besides Tencent, Audi has been working with Baidu, Alibaba and Huawei on in-car digital services and intelligent vehicle development projects.
When you watch WeTV premium content, you need a WeTV VIP. And if you buy WeTV VIP subscription, you can enjoy VIP content on two devices at the same time, and special price for movie rentals! Many people from the global want to upgrade WeTV VIP, but they do not know how to join VIP in WeTV. We z2u.com provide WeTV VIP Top Up service, no matter you are from USA, Malaysia, Indonesia, Philippines, Singapore, India, Thailand, Vietnam, you can purchase WeTV Subscription here!